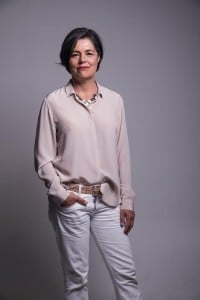 The Whistler Writing Society is thrilled to announce that Vancouver author Claudia Casper will be this year's Whistler Writer in Residence. The bestselling writer and recipient of the 2017 Philip K. Dick Award for Distinguished Science Fiction will move to Whistler this fall to work with novice, emerging and established writers through the celebrated Writer in Residence program. She will also appear at the Whistler Writers Festival, taking place October 11-14, 2018.
A master in the craft of fiction, Casper's impressive bibliography includes bestselling novel The Reconstruction, which parallels a woman constructing a life-size model of the hominid Lucy for a museum diorama with her attempts to recreate herself. Casper's powerful second novel The Continuation of Love by Other Means, was short-listed for the Ethel Wilson BC Book Prize. Her latest work The Mercy Journals, set in a post-climate change world, received the Philip K. Dick Award. Her writing has appeared in a variety of media, most notably The Globe and Mail, The Vancouver Sun, Geist Magazine, Event Magazine and the anthology Dropped Threads: What We Aren't Told, edited by Carol Shields, Marjorie Anderson and Canadian Content.
"It is an honour to welcome Claudia Casper to Whistler," said Stella Harvey, Director of the Whistler Writers Festival. "Casper's career is deeply entrenched in the Canadian publishing and writing worlds, and she brings ample experience working with other writers through close mentorship programs. Her writing is renowned for its complexity, elegant storylines and lyrical style."
The Writer in Residence program is a unique opportunity for writers to work with an experienced Canadian author to push their knowledge of the written craft and their own projects to the next level. Participants receive one-on-one sessions with the author as well as attend group lectures. The program takes place each fall and is designed for writers of all genres and levels.
"Mentorship has played a key role in my own life as a writer, and it will be wonderful to work closely with writers in Whistler to explore and develop their manuscripts," said Casper. "A study of evolution is at the core of my writing. It's where I look to understand our past, our present and our future. I will be bringing this outlook to the sessions and look forward to the many conversations about words and ideas that will take place throughout the residency."
To participate in the Writer in Residence program, interested writers should email Harvey at stella_harvey@telus.net by July 15, 2018. Once accepted, writers will submit a short synopsis of the project they plan to work on during the residency as well as a manuscript of no more than 20 double-spaced pages by August 15, 2018. Only 12 writers are accepted into the program each year. The fee for the program is $325.
The Writer in Residence program is made possible through generous grants from the Canada Council of the Arts Author Residency Program and the Resort Municipality of Whistler Community Enrichment Program.