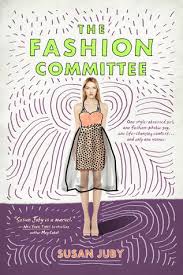 Review by Libby McKeever
When you are driven by passion and the need to finally get the break you've been yearning for, it can lead a person to be ruthless and frankly, do bizarre things.
Charlie Dean has inherited her mother's extraordinary fashion and design flair. But her mother's been dead for years, overdosing in the motel they called home at the time. Charlie's dad's successes and failures of staying clean have cultured Charlie's 'spidey sense,' and she oscillates between high alert and fragile optimism. Her carefully constructed everyday outfits, are her armour against her family's battle with addiction, her room a haven of sequins, sketches and dreams.
The local elite art school in Nanaimo, Green Pastures Academy, is holding its annual Emerging Talent competition which rewards the winner with a year's free tuition. This year, the scholarship will be awarded to the student who shows most aptitude in the field of fashion design.
John Thomas-Smith is an angry teen with a best friend and girlfriend, he almost doesn't deserve. Frustrated that the competition's focus this year is fashion and not metal work, his own passion, he constructs a persona and a ruse to fool all.
The story is told in alternating journal entries between Charlie and John; a fashion diary that is a prerequisite for the competition. Charlie Dean is a show stopper of a character. Her resilience and control is remarkable against a backdrop of addiction. She is truly unique individual and one who readers will cheer for as she finds her people, discovers her own identity, and the mettle she is really made of.
John is the type of guy you are wary of but at the same time has underlying qualities that make you realize he is truly a good guy. That is, up until he isn't. Although painful to witness, you almost want to revel in the chaos that ensues when John's passion trumps his good sense.
Susan Juby is a master of plot and the nuance in character. She allows us inside Charlie and John's heads as they crash pell-mell through the story, delivering us to a very satisfying, yet unpredictable ending.
Susan Juby is a resident of Nanaimo, B.C., and the author of teen novels such as The Truth Commission, and adult fiction that includes Republic of Dirt and the memoir Nice Recovery. She will be reading at the Sea to Sky Discovery: A Storytelling Event to Celebrate Canada's 150th Anniversary, June 30th, 7pm at the Squamish Lil'wat Cultural Centre with authors Bev Sellars, Paul Watson and Joan Haggerty. Tickets available here.
Libby McKeever is the Youth Services Librarian at the Whistler Public Library and is an avid reader of young adult literature.