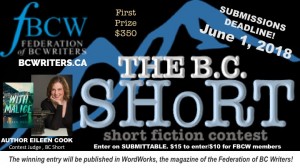 Submissions are open for a new short fiction contest sponsored by the Federation of British Columbia Writers (FBCW). Award-winning novelist Eileen Cook is the judge of the 2018 B.C. Short, a competition for original, unpublished short stories in English between 1,200 – 2,000 words. (No children's fiction.) First prize is $350. "The Federation of British Columbia Writers is deeply committed to supporting and inspiring writers," said FBCW president Ann Graham Walker. "We're keeping the entry fees affordable, and hoping to see a lot of participation."
"We're thrilled to have Eileen Cook as the judge for this year's contest," said organizer Cynthia Sharp, a Vancouver writer on the board of the FBCW. "Her work is powerful, and her eye for story is impeccable." Eileen is a multi-published author with novels in eight languages. Her books have been optioned for film and TV. They include With Malice, Remember, Year of Mistaken Discoveries, The Almost Truth, Used to Be and Do or Di. She is a popular speaker at conferences both in the U.S. and in Canada, provides writing/editorial coaching, and is a mentor/instructor for the Simon Fraser University Writer's Studio, The Write Potential and The Creative Academy.
The entry fee is $15. Members of the FBCW pay only $10. Entrants should use Submittable. The name of the entrant must not appear anywhere on the entry itself. Submissions must be in MS Word, PDF or RTF format, in Times New Roman 12 point font. Electronic submissions only. The deadline  is 
June 1, 2018
. Winners will be announced on 
July 30, 2018
. The winning entry will be published in 
WordWorks
, the magazine of the Federation of BC Writers. Board members of the FBCW and their immediate family are not eligible to enter. Visit 
https://www.bcwriters.ca
 for more information about the Federation of British Columbia Writers.