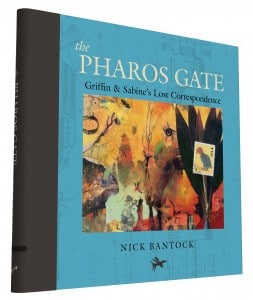 Book Review: The Pharos Gate: Griffin and Sabine's Lost Correspondence by Nick Bantock
By Farha Guerrero
In 1995, when I was an undergraduate student at Trent University in Peterborough, Ontario, I wrote letters to loved ones on a small word processor, nestled somewhere on the floor between my desk and dormitory bed. Writing letters helped soothe homesickness and ease my first-year college blues. Since email was only just beginning to surface, walking to the post office was still a routine part of my life. There was something very human about putting words onto paper; folding them tightly into an envelope for delivery and waiting patiently for a reply.
Weeks would pass and a stamped letter from someone dear to me would arrive at my doorstep. I remember that tactile feeling of slicing an envelope open; reading a letter several times aloud until the words sank deep and then putting it away for safe keeping.
By the late nineties the digital age had reached us more profoundly and soon my letters were replaced with electronic ones on my hard drive. Today even email has become sparse as we have simplified things by texting on cellular devices. We now don't have the need to say "Dear so and so" when we write a friend or "Love" when we sign off. Emojis have replaced tender words and internet slang has sped up our exchanges. Correspondence to our loved ones is instant, short and often deleted in the aftermath.
It was in the absence of longing to literally hold someone's words in my hands again that made reading Nick Bantock's latest book, The Pharos Gate: Griffin & Sabine's Lost Correspondence so incredibly comforting. The Pharos Gate is the fourth book in a series of epistolary correspondences between two mythological lovers that have never met.
Griffin Moss and Sabine Strohem are artists living oceans away from one another; Griffin in London and Sabine on a small island in the South Pacific. They send their correspondence on hand painted postcards and envelopes, each an exquisite piece of artwork in an ethereal array of textures, colours and gentle hues; always illustrating the artists' shifting moods. The reader experiences their love letters in such intimate ways that even removing them from an envelope affixed to the inside of a page becomes a tactile pleasure.
In one such letter, Griffin writes to Sabine as he is sitting inside the Alhambra in Granada, Spain: "I really wanted you here, seeing all of this with me, so I concentrated my thoughts on your Moorish eyes and tried to invoke you as a shape-shifting mauresque drifting through the palace." Griffin and Sabine's simple words are at times so sublime that their magical characters seem to leap off the pages. Sabine writes to Griffith as she is leaving Bali for Egypt: "As I stare into the night I am thinking of all I would do for you: 'Never mind that it is held firm in heaven's ellipse, circling beyond mortal reach, if it be your will, I shall take down the moon and place it before your feet'."
Pursued by the evil figure Frolatti, Griffin and Sabine circle the globe certain that they will finally meet at the Pharos Gate in Alexandria. Their journey isn't without peril but it is through their metaphysical correspondence that they stay steadfast in their goals to unite.
The Pharos Gate comes twenty-five years after the first book in the series was published but it can be read as a single reading experience. The story is complete even for a first time reader to this wonderful collection. This book is for anyone in our digital age missing that endearing physical feeling of opening up a letter and devouring its words whole.
As reviewed in Pique Newsmagazine.
Nick Bantock is known throughout the world for his art, his writing, and particularly the marriage of the two. He will read with Katherine Fawcett at the Literary Cabaret on Friday, Oct. 14, at 8 – 10 p.m. at the Maury Young Arts Centre. Tickets are $22 at whistlerwritersfest.com