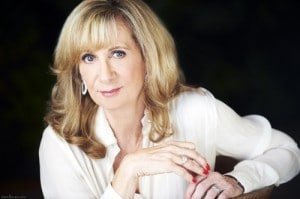 Book Review: She's Not There by Joy Fielding
By Nicole Fitzgerald
I can't read this.
I hear buzzing, a clank.
I'm up, checking the nursery for the third time tonight. Just like the night before. No perpetrator hangs over my two-year-old toddler fast asleep, however. I move to the open window and look down. No one climbs the water drain. I eye up the city, so different from my mountain home. I don't dare close the window in this summer's sweltering heat.
I return to the only scene of the crime. The book She's Not There taunts me from my bedroom nightstand. The work of fiction is arguably inspired in part by the true life event of a toddler being abducted from a hotel room while parents, who decided to leave their daughter alone, dined downstairs at the hotel restaurant.
No new parent wants to read about things like this; to have their already crazy fears fueled even more. But the clock blinks a red three am, and I'm pulling the book back onto my lap and clicking on my flashlight. Only three hundred more pages to go. What could possibly keep a sleep-deprived, neurotic new mother still reading? Great suspense writing will do that to you – even if you know reading further means you'll be up again the minute the floor creaks.
It should come to no surprise Joy Fielding is a New York Times Bestselling author many times over. Fielding has turned out 26 books (so far) in her career, and I'm sure she'll be the first author to copyright the catch phrase "page turner" because the descriptor has been used so many times by reviewers with her work.
She's Not There jumps forward and back in time, leaving the reader to piece together what's happening and trying to forecast what is going happen when a mother, mourning the loss of her missing daughter, receives a phone call from a young girl who says, "I think I'm your daughter." A missing child story can only conclude in one of two ways: lost or found. But Fielding's mastery of dragging even the most reluctant reader (the fore mentioned neurotic new mother) through a constant guessing game, leaves you holding your breath all the way to that final revealing moment.
So needless to say, I refuse to pick up Fielding's Kiss Mommy Goodbye. Regardless of whether the New York Times calls the book a "knockout" or not. Kiss Mommy Goodbye is summarized as such: "He stole the children – an ex husband's ruthless revenge… a mother's terror-filled quest." On reading this, I turn off my flashlight and in the dark, size up my husband, sleeping soundly next to me… the floor creaks.
As reviewed in Pique Newsmagazine.
Joy Fielding is a guest author at the Thriller Writers' Lunch, Saturday, Oct. 15, at 1 – 2:15 p.m. at the Fairmont Chateau Whistler. Feature authors for the session include RJ McMillan, CS Reardon, Peter Robinson and Steven Price, with moderator Feet Banks, Tickets are $32 (includes lunch) at whistlerwritersfest.com