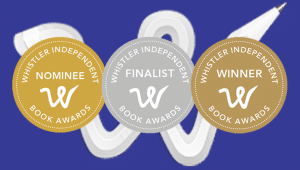 The literary award recognizing excellence in Canadian independent publishing returns after a successful launch at last year's Whistler Writers Festival in October. The Whistler Independent Book Awards (WIBAs) are open to Canadian authors or permanent residents who have self-published a book or books in the last five years. This year the competition invites entries in two categories, fiction and non-fiction, and the winner of each will be announced at the 16thWhistler Writers Festival in October.
Judging the fiction category in 2017 is renowned Canadian author Gail Anderson-Dargatz. Her international bestsellers The Cure for Death by Lightning and A Recipe for Bees were both finalists for the prestigious Giller Prize. Her latest novel, The Spawning Grounds, has just been nominated for the OLA Evergreen Award. Darcie Friesen Hossack, whose short story collection, Mennonites Don't Dance, was a runner-up for the 2011 Danuta Gleed Award, shortlisted for the 2011 Commonwealth Writers Prize and the 2012 OLA Forest of Reading Evergreen Award for Adult Fiction, is the other WIBA fiction judge. Returning to judge the non-fiction category are JJ Lee, award-winning broadcaster and author of The Measure of a Man and Whistler's Susan Oakey-Baker (Finding Jim).
­­
Eligible authors can submit their entries to the Whistler Independent Book Awards until Sunday, April 30, 2017. Submissions can be made via www.tidewaterfestival.com, with information about the awards and festival at www.whistlerwritersfest.com. All entries will be evaluated and authors not shortlisted will receive a written assessment from the nomination committee. Canadian Authors-Metro Vancouver members will select the finalists from the shortlist. Finalists will receive a significant prize package, including a cash prize, and will be invited to attend several Festival events, including the popular Literary Cabaret, where winners will be announced.
Jointly produced by the Whistler Writing Society and Vivalogue Publishing, the Whistler Independent Book Awards are the only juried Canadian awards for self-published authors. "The participation of the finalists and winners of the inaugural awards at the Whistler Writers Festival contributed a positive and collaborative dimension to our annual event. We are pleased to recognize, support and nurture independent authors from across Canada," said festival organizer Stella Harvey.
Media Inquiries About the Awards: Contact Lynn Duncan, lynn@vivalogue.com or 604-522-6222
Media Inquiries About the Whistler Writers Festival: Contact Stella Harvey stella25@telus.net
About the Whistler Writers Festival: Now in its 16th year, the Whistler Writers Festival has hosted more than 100 leading Canadian authors. This year, the event runs from October 12 – 15. The Festival is organized by the Whistler Writing Society, which also sponsors a Writer in Residence and Authors in Schools program.
About Vivalogue Publishing: Vivalogue offers comprehensive print and online publishing and editorial services for individuals, businesses and non-profit organizations.