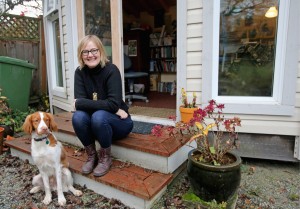 "Yvonne!"
"Hi, how's it going?"
"Great, but you won't believe this. Refugium has a review in Pacific Yachting!"
"What?!"
"I know, right!"
A friend and subscriber to Pacific Yachting had called with this news. As a kid, growing up in land-locked Alberta, the most I knew of the Pacific was my dad's yearly trips to the coast to sail, and my mom's prickly response to his absence. When I was thirteen, we moved to Nanaimo on Vancouver Island and eventually saved up enough for our own boat so Pacific Yachting became a regular part of life. It came in the mail, I flipped through it, my dad read it cover to cover, a stack was stowed on my parent's boat.
And now, Refugium: Poems for the Pacific has a review in it, which starts with, "If people think at all about poetry and the sea they might recall Coleridge's 'Rhyme of the Ancient Mariner'…" Marianne Scott, Pacific Yachting, April, 2018.
For me this exemplifies discourse. The book I'd edited with over eighty voices from around the Pacific was in conversation with Coleridge, with its reviewer, and with sailors. It was in conversation also with my childhood self. Furthermore, the poems in the book, each written from a different space and place in relation to the Pacific, were in conversation with each other.
For me the act of writing is, fundamentally, a conversation with myself (and often my dog). When I send it to a magazine or place it in a book it begins or joins a larger conversation with readers and with other writings within the pages. Though writers are famed to be introverted and shy, they are at heart, also, communicators. Poets put deep thought, play, metaphor, music, language and pun into their discourse.
I have a mental image of a large table where discourse is taking place on all the important subjects. I feel a deep longing to sit at that table and enter those conversations. These days I wonder where that table is. At literary festivals, perhaps, and readings and in bookstores. On the radio? During elections? In classrooms, hopefully. I also realize, if only fleetingly, that the poems I've written and the books I've edited are out in the world and in some small ways are part of larger conversations, usually without me realizing.
Refugium: Poems for the Pacific is a collection of multiple voices whose cadence reverberates from one voice or poem to the next. It is striking in its richness and connection to the Pacific and I think through the title, Refugium it creates a space, a refuge, perhaps less like a table and more like a chamber of sound and sense where the voices of multiple poets create a response in readers, create a layering of thought, memory and grief.
Truths are held here. I'm not sure what comes after discourse, but I'd like to believe it can lead to thought and thought can lead to further discourse, and we can then tire of just talking and move toward action and change for what is happening to the ocean and planet is unbearable.
Yvonne Blomer, editor of Refugium: Poems for the Pacific and Sweet Water: Poems for the Watersheds (due out Winter, 2020). Reading at Wade in the Water: Poetry as an Invitation to Speak Together Differently, Oct. 19, 11:30 am at the Fairmont Chateau Whistler.
http://caitlin-press.com/our-books/refugium-poems-for-the-pacific/
http://caitlin-press.com/our-books/sweet-water/