Book Review: Return of the Trickster by Eden Robinson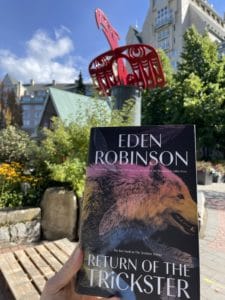 I am bereft. 
When you turn the final pages of a story that's spanned several books, you have built up a relationship with the characters, and it can be heartbreaking to say goodbye. This is what happened to me and other Eden Robinson fans who have been following the character of Jared Martin since the first book in the Trickster trilogy, Son of a Trickster. We've been with this annoyingly awkward, yet loveable teen as he's uncovered who he really is, one of the 535 decendants of Wee'git, a shapeshifter that can travel to other dimensions.
This could make the book sound wonderfully whimsical, but it's grounded by a gritty, coming-of-age story about a boy who doesn't seem to fit in anywhere; with his family, his friends, or with the other supernatural beings that start to inhabit his life (and eat his toes).
"The insanity of magic Jared had unleashed left him with no way to deny he was a Trickster himself, that he was part of the crazy, that his amateur dabbling has created a shitstorm that had eventually landed him in Emerg. Again. All his relationships changed now, except the rotten one he had with his bio dad. Normally, Jared would tell him to fuck right off, but his organs were running amok in the hospital bathroom and he had no pride left."
In this final installment, we join him at a point of no return. He's set off a chain of events that he can only hope won't end with himself and everyone he loves dying. These cataclysmic elements are juxtaposed against the more ordinary things that make up Jared's life: his love of cooking, the complex dynamics of being friends with an ex, his battle with alcoholism, and his dream to "work as an ultrasound technician in a mid-sized hospital".
It's this humorous weaving of the mundane with the mystical that makes Robinson's writing so distinctive, and also the reason why Jared is such a memorable hero. At his core, he's just a nice guy who wants a normal life, but his lineage of a hated, shape-shifting father and psycho, witch mother makes this difficult; not to mention the octopus ghost, otters in human skins, and the ogress who likes to suck the marrow from his bones.
In an interview with the Vancouver Sun, Robinson admitted to drastically changing the tone of the third book; switching it from a happy-ever-after ending to one more challenging and darker. I'm glad she did. The pace of the storytelling left me breathless as it bounded towards its chaotic showdown ending.
If you're after some escapism, love a flawed hero facing an impossible situation, and want to know how a Sasquatch recovers from a fit of rage, this is the book for you. As I said, I am bereft that this story has ended, but I am also looking forward to a good night's sleep.
You can often find Dee Raffo exploring all Whistler has to offer with her three-kid tribe in tow. Originally from the U.K., Dee enjoys balancing high-thrill adventures with downtime, basking in the beauty of the wonderful place she calls home.
Eden Robinson will be in conversation with author and director of the UBC School of Creative Writing, Alix Ohlin on Sunday, Oct. 17 at 11 a.m. Take part in the in-person brunch, at the Fairmont Chateau, or the virtual Whistler watch party. Robinson will be joined by authors George Elliott Clarke, Omar El Akkad, Robert Jones Jr., and M.G. Vassanji. Tickets are available at whistlerwritersfest.com.