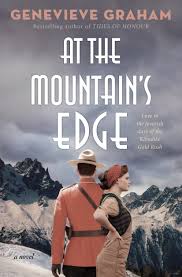 Book Review by Alli Vail
At the Mountain's Edge is the latest historical novel from bestselling author Genevieve Graham. The author, known for exploring slivers of Canadian history and giving them fresh life on the page, tackles the Klondike Gold Rush from 1897 onwards, just as gold fever is taking off.
Told from two points of view, the novel follows Liza Peterson and Ben Turner. Liza's father decides to move the whole family — and the family's general store — to Dawson City to make their fortune. Liza doesn't share her family's enthusiasm. She likes her comfortable home in Vancouver and is afraid of the danger.

Ben Turner is running away from his violent past and joins the North-West Mounted Police to do some good in the world. He volunteers to go north and keep the peace. Graham shines a light on some of the dangerous work the NWMP partook in to establish law and order. It was fascinating and heartwarming, especially considering some of the scandals the modern RCMP has faced in recent decades.
During the long and arduous journey, Ben and Liza cross paths. As tragedy strikes, (which, on the trail for gold, it often does), Liza finds inner strength she didn't know she had, and Ben is forced, eventually, to face his childhood.

Although marketed as a love story, the characters' romance is tepid compared to the swelling and dramatic descriptions of time, place and danger. The real love story is about the Yukon and Dawson City. Graham spares no detail, (although she doesn't sacrifice pacing, because it took months to travel north), and reveals the insanity of the journey. The sacrifices for gold are immediate and chilling. From the grungy boat from Vancouver to Dyea, the first stop, to the Chilkoot pass where people died or abandoned their supplies, to the dirty, dangerous Dawson City, it's clear that Graham can make the past tangible. Anyone who has travelled to the Yukon and explored the history there will be transported from her descriptions.
Genevieve Graham will be appearing in the Literary Cabaret Friday October 18, 8pm-10pm.