New novel dives deep into fantasy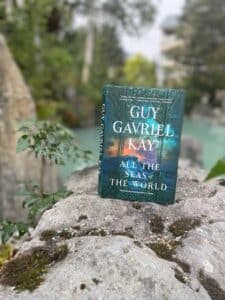 It didn't take long for me to be fully absorbed by the complex and vivid world that Canadian award-winning fantasy author, Guy Gavriel Kay is famous for creating. In his fourteenth novel, All the Seas of the World, we're thrown in at the deep end with an assassination, the catalyst of a religious war that the main characters, Nadia/Lenia and Rafel, must navigate cleverly to survive. 
Kay blends real-world history into a world set in the near-Renaissance, with hints of the Mediterranean and the Middle East. His world-building is intricate, and the map and principal character list at the start of the book is a telltale sign this book might take some focus. This world-building creates a rich, if sometimes overwhelming, setting for a tale of love, power, and vengeance that's riveting to the very last page. Even though the action is pacy, at times it flows at a slower, more poetic meander that allows you to drift along with the characters.
What's unique about Kay's writing is that he literally pulls the reader into the book by asking us to consider what's happening. At first, I found this a little jarring, but I soon found myself appreciating this worldly-wise, storyteller voice which included me in its musings.    
'What happened that night in Seressa changed her life. It felt so to Lenia at the time, even though many different moments change our lives, sometimes when something insignificant happens. Our lives are endlessly changing it might be said. Indeed, the absence of the significant can matter. The person we don't meet, missing them by moments.'
We sail away with Kay as he unravels the layers of his characters, one of which was taken by corsairs (pirates) as a child and abused by the man she was sold to. Kay deftly tells stories that are relatable to the point of tears, even when we're deep in his fantastical world.
'This was so hard. "I thought you might not accept my coming back."
"What?"
His tone, the dismay, the disbelief in his voice at the very idea—an idea that had ruled her life from the moment she was free again. Balm to a wound festering from that day.
"Carlito, a woman taken away is—"
"They took you, you didn't choose anything!" He was almost hurting her now, squeezing her hands so hard. "Lenia, you are here! You escaped. You're alive! Oh Jad, this is the best day I can remember in my life."'
From Nadia/Lenia's story of slavery and acceptance of self to Rafel's history of being exiled, a refugee searching for a sense of belonging, Kay dives deep into the human psyche, pulling the reader along with him.
'We can be changed, sometimes greatly, by the people who come only glancingly into our lives and move on, never knowing what they have done to us. We can do this ourselves to others. And never know.' 
In a similar style to the Red Wedding episode in Game of Thrones, Kay is not scared of killing off a few side characters to keep you on your toes. There's also another level of the fantastical in this book as Nadie/Lenia realizes she has a power that enables her to stay a step ahead of her foes.
'And someone had warned her. Someone inside her head. Not a moment anything in her life had prepared her for. Behind you! She heard within her mind—clear as a sanctuary bell in country air. Lower your hood! Turn!'
All the Seas of the World is a stand-alone novel, although it is linked to two other books in his 14-novel, strong list. His other titles, including Children of the Earth and Sky, Tigana and River of Stars, can be found on bestseller lists around the globe. It's also exciting to hear that his Fionavar Tapestry fantasy series has been optioned by the Canadian production company behind Orphan Black. 
Guy Gavriel Kay is on the Writers of Fiction panel on Oct. 15 at 4 p.m., in person at the Fairmont Chateau Whistler, or online. Tickets are available. This review also appeared in the Whistler Pique Newsmagazine. 
Review and photo by Dee Raffo. Raffo is a screenwriter and editor. Originally from the UK, Dee enjoys balancing high-thrills adventures with downtime, basking in the beauty of the wonderful place she calls home.