Human, fierce, achingly honest, and challenging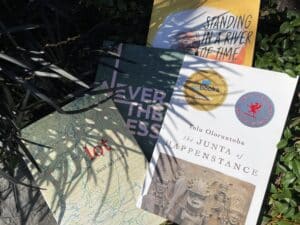 The great naturalist Barry Lopez said, "poetry is a door anyone can walk through." Well, here we go.
Into our ordinary lives where most of us have experienced times of confusion and loss.—loss of language, voice, or loved ones.–poetry is an art form that has always been a resource in times of crises and trauma.
During the pandemic, people turned to poetry in astonishing numbers. Perhaps it was our collective vulnerability. An expectation that in poetry there would be insight, support, bearing witness, help and hope. In short, when we were isolated, there was company in poetry and an expectation of truth.
The poet Mark Strand said, "You don't read poetry for the kind of truth that passes for truth in the workaday world. You don't read a poem to find out how to get to Twenty-fourth Street."
But we do expect a kind of moral evaluation from poets. The poet is not telling us what to do, but rather bearing witness, leading us to places we may not have been aware of. And the poet is with us, along for the ride. Leonard Cohen called this the responsibility of the poet – forging a connection between poet and reader.
This year the Whistler Writers Festival is hosting four poets who have written deeply moving collections — Sarah de Leeuw (Lot), Gillian Jerome (Nevertheless), Jónína Kirton (Standing in a River of Time), and Tolu Oloruntoba (The Junta of Happenstance).
 In Lot, de Leeuw interrogates the role of language within stories of erasures and white washing of the geography and history of Haida Gwaii. The poems are written in couplets mirroring the two islands.
For Jerome, what is ordinary saves us. In her collection Nevertheless, she is both participant and observer with the reader in these poems, a meditation of rediscovery and reconnection with place.
Living in-between her Métis and Icelandic heritage, Kirton's poems too are a hybrid, part memoir and part verse. Standing in the River of Time digs deep, taking the reader through a healing journey of love, loss, and forgiveness.
Many of Oloruntoba's poems in his multiple award-winning début The Junta of Happenstance are Socratic, asking questions as a way of fearlessly exploring social injustices, loneliness, love, and death. And he does it with the most magnificent language. Something we also come to poetry for. The deft hand of the written word.
These are poets engaged in their own truth-seeking. And in poetry, the personal grants us the key to the door of the universal, where new stories are possible.
But make no mistake, these are not sentimental poets. First there will be rivers to cross. Some rivers are raging. These poets are navigating turbulent waters with grace and courage. In the end, they are not offering solutions as much as posing questions about how poetry can build bridges and offerings of reconciliation and healing.
Mary MacDonald will moderate Poetry: Deeper Conversations: Loss, grief and finding our way home, with Sarah de Leeuw, Gillian Jerome, Jónína Kirton and Tolu Oloruntoba on Saturday, October 15, at 11:30 a.m PDT. For tickets, visit Whistler Writers Festival. This review also appeared in the Whistler Pique Newsmagazine. 
Mary MacDonald is a writer and holds a PhD from UBC. Her book of short fiction, The Crooked Thing, is available from Caitlin Press and locally, from Armchair Books. She sits on the board of the Whistler Writers Society and is curator and moderator for poetry at the Whistler Writers Festival.