Forget what you know in In the Dark We Forget by Sandra SG Wong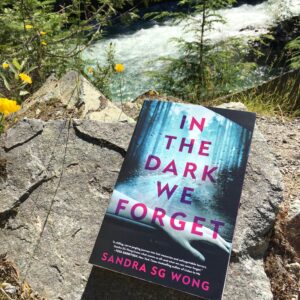 I'm a sucker for amnesia as a plot device. It creates so much confusion and so many problems for so many people, as it does in In The Dark We Forget, a new psychological thriller by Sandra SG Wong.
Cleo Li wakes up outside next to a deserted stretch of BC highway. She doesn't know she's Cleo Li, of course, because she has amnesia. A stranger takes her to a police station, and who she is, and what has happened slowly begins to reveal itself. It doesn't look good for Cleo, because her parents are also missing somewhere in the BC wilderness after winning a $47 million lottery jackpot — and Cleo was the last person with them. It turns out that Cleo is not the nicest person — her attitude precedes her — and she has more than her fair share of enemies. Even Cleo begins to wonder what she is capable of.
In the Dark We Forget is a slow burn. The tension comes from Cleo's internal conflict and her inability to remember what happened to her and her parents, and the way the cops immediately suspect that she had something to do with what happened. There aren't too many people in Cleo's corner, just her brother Cass, with whom she also has a fraught relationship, and a Japanese Canadian police officer who is also torn by duty to her higher ups. As a reader, it's hard to know who to trust because everyone seems a little suspicious, from Cleo right down to law enforcement, and even Cleo's missing parents themselves. 
Wong doesn't shy away from racism in law enforcement, or the performative ways in which it tries to protect itself from accusations. Cleo knows she's getting less support and is being treated with more suspicion because she isn't white, and the officers refuse to acknowledge the pronouns of other characters. Wong also purposefully makes sure her cast, even characters who only show up for a moment or two, are diverse and reflective of reality. The richness stands out because once you see how Wong does it you realize how rarely you see a multicultural character set in other books. 
Law enforcement is also slow moving and a little pedantic in the novel, which isn't as fun as all the crime shows on television, but is more realistic. 
This novel gets into the complexities of family and culture, workplace dynamics, and how quickly everything can get out of control.
Sandra SG Wong is part of the Thrills and Chills: Mystery and Crime Writers Panel on Saturday, October 15 at 1:15pm at the Fairmont Chateau Whistler and online.