Making Space for Me in the Circle:
A Memory from the 2018 Whistler Writers Festival
by Darrel J. McLeod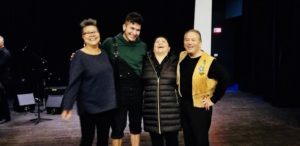 P: Janet Rogers, Billy-Ray Belcourt, Eden Robinson, and Darrel J. McLeod
The 2018 Festival was the stuff dreams are made of… dreams that come true. For the Friday evening jazz cabaret, I shared the stage with a few of my literary heroes, Eden Robinson, Billy-Ray Belcourt and Janet Rogers. I read last while an amazing band performed an instrumental version of the jazz song, Blue Skies, while I read an excerpt from my memoir, Mamaskatch. Then I joined them in making music, singing Fly Me to the Moon in B flat. It was magical, and the audience response was phenomenal.
Eden, Billy-Ray and Janet congratulated me on the performance, and I think we even had a group hug, but I couldn't tell them why I'd sung with such gusto, or the reason I was a bundle of nervous joy. The day had begun with a 7:00 a.m. phone call from the Canada Arts Council – to inform me that I had won the 2018 Governor General's award for English non-fiction, but requested that I keep it a secret for another month.
The whole weekend was surreal – as a neophyte writer I was gobsmacked, in the best possible way, to meet so many incredible authors and to find myself on a panel with Lisa Moore and Rawi Hage. All weekend, I wondered if somehow, everyone knew my secret – the organizers and the accomplished writers who were present – they all welcomed me so graciously and made space for me in their circle. I'm guessing that, Covid19 aside, I'll have to make annual pilgrimages to this festival – whether or not I'm on the program.
Darrel J. McLeod will appear in the Booklovers' Salon and the Literary Cabaret Fri. Oct 15, and A Walk to Lost Lake and Back, Sun. Oct 17.