A Festival for Reminiscence and Reflection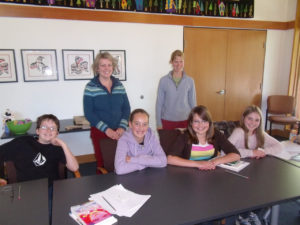 by Terence Young

P: Libby McKeever, former librarian, and Jane Millen, teacher, with students attending Terence's writing workshop in 2010.
The last time I attended the Whistler Writers Festival was, I believe, in the fall of 2010. Patricia [Young] was reading from a new collection, and I had just published a book of stories. So, eleven years ago. It seems a long time in terms of what has happened since, and my memories are rather dim regarding the events themselves — I think I gave a poetry workshop to some young writers and may even have a picture of those kids which I will include with this reminiscence.
However, I remember very well meeting a couple of people from my distant past, two former students who had settled in Whistler and were connected to all things writerly in the area. They were Rebecca Wood Barrett and Nicole Fitzgerald. I taught Rebecca (AKA Becky Wood) in  North Saanich Middle School some time in the early 80s, and Nicole at Claremont Secondary a few years later. It was extremely gratifying for me, as a teacher of English and writing, to reconnect with two talented students who had made language and literature a vital part of their lives. 
The idea, then, of celebrating the 20th anniversary of the festival is very much about reflection, about looking back to see the ground the festival has covered, the connections it has fostered and the books and authors it has shared with the community. And as a retired teacher, I find I am engaged in the same process of reflection, of revisiting the years I have taught, the wonderful people I have met over the decades (yikes!), and the fiction and poetry and love of language I have tried to pass on.