Sharing writing in person again energizes poet Hasan Namir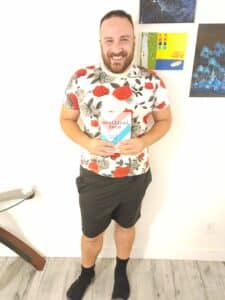 When I'm working on a poetry book, I get excited at the thought of reading these poems in public, to an audience of poet readers and authors. That moment as I walk up on the stage and feel the energy around me — it elevates me. I would feel energized, a kind of thrill, all the feels.
For a long time, since the pandemic happened, the experience was rather different. Although I could see faces on the screen, when I was reading, it felt lonely, and honestly not the same. But I knew that we were all in this together and so I kept reminding myself that one day, we would go back to in-person events.
The moment I was invited to do an big in-person event at Whistlers Writers Festival, I was ecstatic. It was my first time reading at the festival and I've always wanted to read there. It was nice to finally participate in in-person writer events. I missed it greatly.
The Whistler Writers Festival is a collective of stories. Allowing me to share my stories in reading my poetry book Umbilical Cord (Book*Hug Press) and also the privilege of hearing the stories of my peers — that never fails to inspire and move me. I'm looking forward to the festival and I can't wait to share stories together at Whistlers Writers Festival. — Text & photo from Hasan Namir
The theme of this year's festival is Sharing Stories Together. Hasan Namir (Umbilical Cord) appears at the Literary Cabaret: We're Back, Live Baby! event at 7 p.m. PDT on Oct. 14. Tickets are available for in-person or online.