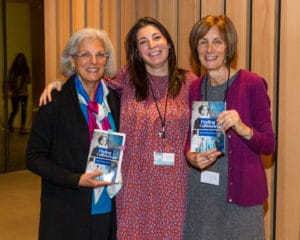 Photo: Joern Rohde/joernrohde.com
My first time participating at the Whistler Writers Festival was in 2019. It was a chilly evening, but I remember the warmth of the crowd that attended for Stella's launch of her latest novel at the time, Finding Callidora. Having been asked by Stella if I would be interested in preparing some appetizers for the book launch, there being a Greek connection, and being in the process back then of writing my Cypriot cookbook, I had prepared some appetizers for the main event. 
I remember driving up with my mom, and arriving early to make sure everything was properly placed on trays – it was my first time catering to such a large group. I absolutely loved the experience and am forever grateful to Stella for it. One of the best compliments I ever received about my baklava was at this event "this is the best baklava I have ever had", and I have always remembered that!  
I am very honoured to be invited back this year. I am again delighted that some of the recipes from my cookbook will be offered to those attending, this time prepared by the kitchen staff at the Fairmont Hotel (I am very grateful for your help!).  I am also delighted to say that my cookbook "Cyprus Cuisine", published by Whitecap Books, was released in May 2021 in Canada, and September 2021 in the United States! I look forward to celebrating 20 years of stories with everyone attending this year, and enjoying some more savoury Cypriot treats from my book!
Christina Loucas will be appearing at the Celebrating 20 Years of Stories event, Friday October 15, 5:30 – 6:15 p.m. with Meredith Gardner of Happilife Farm, for an appie and cocktail tasting.