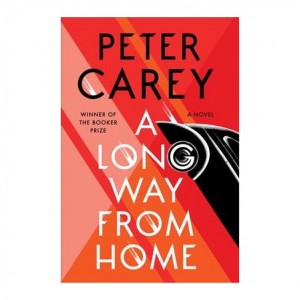 Race Across Australia Takes An Unpredictable Turn
In A Long Way From Home, Peter Carey's latest novel, Titch and Irene Bobbs are a diminutive pair with a mighty dream—to win the 1953 Redex Trial.
The brutal, car-destroying race circumnavigates Australia, and a win would give them the notoriety they need to start up their own car dealership. It would also release them from being crushed under the grinding thumb of Titch's father, Dangerous Dan. Along for the rollicking adventure is neighbour and now navigator, Willie Bachhuber, recently fired from teaching after hanging a young student out a window by his feet.
In the race, the Bobbses and Bachhuber use their wiles to navigate and outsmart their competitors. But a sudden death in the family has Titch abandoning the race. His wife Irene, stubborn and fiery, continues with the affable Willie.
This is where the story—like the race—wanders into unpredictable territory. The gnarly twists, bottoming-outs and crashes of outback racing mirror the surprising thematic turn, in which the car rally parallels a journey that explores how white people colonized the land and took ownership of Aboriginal culture.
Though Carey's latest novel delves into recent Australian history, it will feel eerily familiar to Canadian readers as we, as a nation, listen to the heartbreaking truths of Canada's Indigenous peoples, and recognize our own history of the colonial attempt to enact cultural genocide.
Eventually, Irene and Willie must separate in the race, with Irene driving on relentlessly, while Willie contends with a very different fate. He is forced to face the stark truth of his own past and his personal connection with colonial legacy. He becomes obsessed with recording and preserving the stories and accounts of Aboriginal culture, yet is torn by having to protect them from "malevolent destruction" should they become public.
Carey's Australian landscape is described in rich and startling detail: "…dry beachy land, hills and flats, arid plains of reddish kangaroo grass. God knows what murder was buried there, curled up in their roots."
While the land is a nemesis to be conquered in the Redex Trial, it is also part of the very fabric of Aboriginal culture, torn in countless ways by displacement of the people from their ancestral homelands.
In the end, it is the unexpected merging of the two stories that has one lingering on their meaning, musing on the shape-shifting plot which seems to be alluded to by Willie's son who says, "What seems to be a rock is sometimes so much more."
Rebecca Wood Barrett is a writer and filmmaker and will be teaching the writing workshop God is in the Details at the Whistler Writers Festival.
Peter Carey is a two-time Man Booker Prize winner for novels Oscar & Lucinda and True History of the Kelly Gang. See him at the Whistler Writers Festival on Oct. 13, 8 p.m., in the event Ali Hassan in Conversation with Peter Carey. For tickets, click here.