Book review: Reuniting With Strangers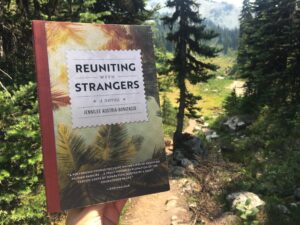 The inspiration behind Jennilee Austria-Bonifacio's book, Reuniting With Strangers comes from the author's work with newcomers to Canada, especially Filipino caregivers and their children. These unique, linked immigrant stories, highlight the difficult decision to leave family in the hope of providing them with a better life. The underlying wish is that through hard work, they will be able to earn enough money to eventually bring their children and families over to Canada. The title of Austria-Bonifacio's book is a poignant nod to the reality of reuniting these families, and that the toll is costly.
"Dark thoughts will start coming in the times when you're alone. When Ma'am and Sir are at work, you'll put the children down for their naps… And think "Why am I the employee and not the employer? Did I do something wrong other than be born in the wrong country?" … but here you are, nothing but a yaya, ripped apart from your family because, despite the nagging, sinking feeling in your chest, you so badly want them to live like Ma'am one day".
Reuniting With Strangers also tells the silent story of servitude, prejudice, and disparity and the impact on these families is unimaginable to most of us. These connected stories begin with a baby who is left behind with his Aunt Sora. Sora needs to stifle her own plans to raise her sister's child, until he is five and his mother calls for him to be brought to Canada. The boy's name is Monolith, a nod to his strength and size at birth. Monolith is dropped off with his birth mother in Canada, but both he and his Aunt Sora are traumatized. The boy remains mute, and his anger is exhibited in difficult behaviour. This boy appears throughout the book in many stories; sometimes Monolith is observed in the park by another caregiver or is taken care of by a teenager who is wrestling with their gender identity. Before Monolith moved to Canada, he joined his grandmother Tering, when she went to work as a housekeeper to Lolo Bayani. The boy brings comfort to this ailing man, a former famous singer, who after suffering a stroke, is also mute.
Over the years, Lolo Bayani, a true patriot, has witnessed the departure of all his children. Ironically, his most attentive son, Roly, becomes a caregiver in Canada but is not with his father, when he needs care. The estranged family and their Canadian children return to the village—now a thriving town—for Bayani's birthday, most likely his last. Watching silently, he witnesses these children complain about the lack of wifi, and when they leave to seek excitement in town, Roly and his daughter Phillipa stay behind. Philippa picks up the bandurria and strums the first notes of "Bayan Ko," the unofficial Philippine anthem which tells the story of the love of country and the old man's heart is cheered.
In another story, a Filipino couple moves to Sarnia. Over the years, their daughter Avril watches her family fill boxes with new items to send back home, while they continue to live in near-poverty. "I remember watching them painstakingly fit the goods into huge cardboard boxes…they called them "balikbayan boxes," which makes no sense to me because "balik" meant "to come back" and "bayan" meant "the country" but there was no way in hell that we'd ever be coming back."
This reviewer feels that this specific story highlights the reality of the immigrant experience in Canada. Most people have had to work multiple jobs to afford the cost of living here; and in addition, send money and balikbayan boxes back to their families in the Philippines. Often, there's a lack of transparency as to how hard it was for the Filipino immigrants to earn the money they send home, and therefore continue to enable their families to financially depend on them.
Austria-Bonifacio's novel uncovers the long and continuous hardships and sacrifices Filipino-Canadian people across Canada go through for the purpose of reuniting with their families in hopes of a better life for them all. By exploring the fragile relationships between Filipino caregivers and their families, both in Canada and the Philippines, these stories not only reveal the depth and importance of family ties in a Filipino's life, but also challenge our understanding of the so-called opportunities Filipino immigrants have in this country.
 Jennilee Austria-Bonifacio is a Filipina Canadian author, speaker, and school board consultant who builds bridges between educators and Filipino families through her initiative, Filipino Talks. Born and raised in Sarnia, Ontario, she now lives in Toronto, where she is writing her second novel.
Jennilee Austria-Bonifacio is a guest author for Writers of Fiction on Saturday, Oct. 14 at 4 p.m. at the Fairmont Chateau Whistler. Tickets are on sale now.
Book review is by Angela Bueno. In 2005, when Angela Bueno was a teenager, her family moved from the Philippines. Although they had a different experience from the families portrayed in the book, her parents shared the same strong wish to give their children a better life. When they were still in the Philippines, Angela was asked by her father, "Should we go?" Angela's reply was, "If we don't try, we won't know."  Angela has been a settlement worker and is now a multicultural outreach worker for the Whistler Multicultural Society (WMS). The WMS strives to develop community inclusion initiatives within the Filipino, and other newcomer and immigrant communities in Whistler. Angela attended Whistler Secondary school and returned as an adult to live here with her partner and young daughter.