Book review: The Librarianist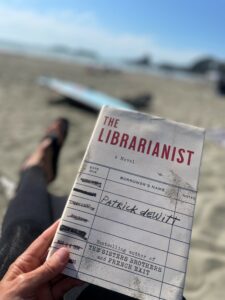 Bob Comet is the kind of protagonist that librarians today might regard as a purveyor of that age-old stereotype: the staid, chinless, introverted bookworm who lives a hushed, drama-free life. As the main character in Patrick deWitt's newest novel, The Librarianist, Comet is indeed ordinary, isolated, aging and usually sad; the only woman he ever loved ran off with his best friend (not a spoiler; this is set up early).
But as often is the case for recluses, life throws a wrench into the middle of the dullness same-old, same-oldness. In Bob Comet's case, the retired 71-year-old encounters a wandering, near-catatonic resident of a nearby senior's home in the 7-Eleven. He delivers her back to the Gambell-Reed Centre, and decides to volunteer his time at the centre, as a guest reader. The raggle-taggle residents do not appreciate or share his enthusiasm for literature and walk-on, on his first offering. He changes tack and forges unlikely friendships with the residents. These relationships lead to a journey constructed of flashbacks, expanded tangents and vignettes that feel like fables, and are both tragic and comic. They draw a portrait of a sensitive and introspective man on the sidelines who just might find reason to flourish late in life.
One of Bob Comet's defining moments was when he ran away from home at eleven years old and hopped on a train. At the Hotel Elba, he encountered an antisocial botanist, a lovesick chambermaid, and a sheriff whose great joy is the power of his PA system.
"Ladies and gentlemen? Ladies and gentlemen." The crowd quieted, turned to look at the patrol car. "You're all under arrest," said the sheriff, and the crowd booed. "Okay, you're not. But do me a favor and let us through."
But the real stars in this long flashback are June and Ida, two travelling 'thespians' (oh yes, deWitt has fun with this) who are putting on a show at the Hotel Elba that features witches, a guillotine, soup, and dancing dogs. Here, Jane explains the difference between melancholy and sorrow.
"Melancholy is the wistful identification of time as thief," she tells young Bob. "Sorrow is the understanding you shall not get that which you crave."
Other tangents include the death of his unmarried mother in the 1950s, his brief courtship and marriage a few years later. We get to know his fickle, preening friend Ethan, and Eileen, the hilariously sour socialite he seduced while working in Acapulco in the 1960s.
Within these chunks of story, Bob Comet's character comes to life so profoundly, even the extrovert, the risk-taker and the loud mouth, come to understand a quiet man's journey; such is deWitt's brilliance.
The New York Times called deWitt a "stealth absurdist." Like his previous novels, The Sisters Brothers, Undermajordomo Minor and (my personal favorite) French Exit, The Librarianist is fantastically warped. DeWitt presents a suspicious death, myriad family secrets, and sexual scandals, with tenderness and heartache. With a voice that is florid and straight-edged, cutting, and hilarious; deWitt is Heather O'Neill's cousin when it comes to skewed humour and compassion for the outcast.
The Librarianist is definitely a book to check out.
Patrick deWitt reads at the Literary Cabaret on Oct. 13. Tickets go on sale on Aug. 21.
Review by Katherine Fawcett. She is an author, playwright and teacher living in Squamish. Her two recent books of fiction, The Swan Suit, and The Little Washer of Sorrows, were both shortlisted for the ReLit award. She will be moderating Insights From Insiders Publishing Panel, a discussion with some of Canada's top publishers and literary agents, as well as A Conversation with Mona Awad at the Whistler Writers Festival in 2023.