Laugh Out LIVE! is coming to the Whistler's Writer's Festival and we are looking for funny scripts, monologues, and short sketches!
After two sold-out seasons, over 2,500 tickets sold, and nearly 30 nights of roaring laughter, Laugh Out LIVE! is back for another incredible season of live improv, sketch comedy, stand-up, and huge prize giveaways! Be a part of Whistler's hottest ticket and join us in making people laugh!
We are looking for funny sketches to put on stage (or film) for our live performance! Winning script will be performed during Whistler's Writers Festival! Writer gets (2 tickets to the show PLUS $200 in cold, hard, e-transfer.)
Not familiar with Laugh Out LIVE!? We are a 90-minute comedy variety show on a full production stage. It's a wild ride of improv games, rehearsed sketch comedy, and stand-up sets. Every show is different! Three incredible hosts with loads of audience interaction and bundles of laughs. One of Whistler's greatest nights out!
Laugh Out LIVE! call for scripts details:
Length: Must read under 3 minutes 
No. of characters: 1-3 is ideal, but can handle up to four
Format: Written for stage OR for film 
Genres: Comedy, musical comedy, Whistler-themed comedy, monologues
Deadline: September 15, 2023 
Submit to: laughoutliveshow@gmail.com by September 15!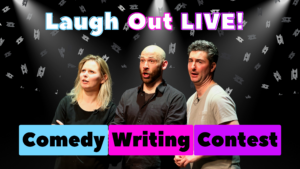 Got any sketches from the archives? Pull them out and submit! We can't wait to read them!
Any script submissions used in future Laugh Out LIVE! shows will be financially compensated $50 per performance.
Laugh Out LIVE! : Writer's Block Party & The Second Chapter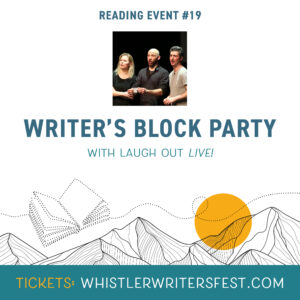 October 15 & 16, 2023, 8:00 p.m. – 10:00 p.m. PDT | In-person at Fairmont Chateau Whistler
They say comedy is tragedy plus timing. And there's nothing more tragic for creatives than a mental logjam. Help us smash the barriers at the Writer's Block Party, with the hilarious improv troupe Laugh Out LIVE! featuring Dave Francis, Rebecca Mason, and Ira Pettle.
A not-to-be-missed Whistler experience, this smorgasbord of high energy improv, edgy stand-up, and all-original sketch comedy takes a humorous shot at literary clichés, obsessive writers, and fanatical booklovers. Whether you're a writer or reader, liven up your Sunday night with a gut-busting giggle!
In Person Tickets: $35 |  Tickets on sale August 21 – Get your Super Early Bird discount before September 15!