Connecting Through Story: William Ping builds connection to his grandfather
The theme of the 2023 Whistler Writers Festival is "Connecting Through Story." William Ping, a guest author this year, shares what this means to her as we prepare for the festival in October.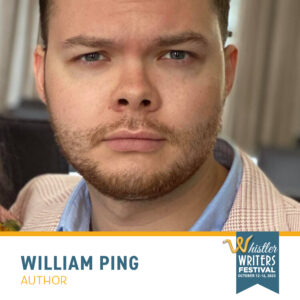 Since my debut novel Hollow Bamboo was published, I have been able to connect with so many readers across the country.
These connections through the story of my family have been really incredible. From immigrants of other countries who also faced discrimination in Newfoundland to descendants of Chinese immigrants in other provinces to people who just connected with the book, the story of my grandfather's life has been something many readers found kinship with.
Perhaps then it is no coincidence that my goal in writing Hollow Bamboo was to connect with my late grandfather himself. My grandfather was also named William Ping and he passed away when I was three years old, so I didn't really know him that well. But my grandfather was a notable business owner and community leader in Newfoundland and for much of my life, I lived in his legacy.
Knowing the story of his life, I always wanted to write a book about him and when I sat down to write Hollow Bamboo, it was my opportunity to engage with all manner of sources to learn exactly who the first William Ping was. Writing the novel left me feeling more connected to my grandfather and my heritage and I'm so glad readers across the country have been able to read and appreciate the story of his life. I'm looking forward to the Whistler Writers Festival as it presents more opportunities for me to connect with readers, readers to connect with the book, and a chance for everyone to connect with some of the country's best writers!
William Ping reads on the Writers of Fiction panel on Oct. 14 at 4 p.m. at the Fairmont Chateau Whistler. He is back again Oct. 15 to moderate the Sunday BookTalk and Breakfast. Tickets for both these events are on sale now.