Connecting Through Story: stories help us remember who people are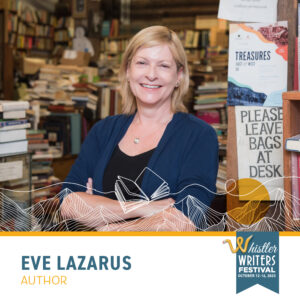 The theme of the 2023 Whistler Writers Festival is "Connecting Through Story." Eve Lazarus, a guest author this year, shares what this means to her as we prepare for the festival in October.
There are over 1,300 cases of murdered and missing Indigenous women across Canada and 26 percent are from BC. While that number is staggering, it is just a statistic, and it's easy to scroll past unless there's a face and a story attached.
In Cold Case BC I have written the story of Gloria "Lee" Moody, a 26-year-old mother of two who was brutally murdered on a weekend trip to Williams Lake with her parents and younger brother in 1969. Lee's murder destroyed her family and continues to haunt her daughter over half-a-century later. I worked with Marlene Jack to tell the story of her missing family—her sister Doreen, Doreen's husband Ronnie and their two boys, Russell, 9 and Ryan, 4. The family left their home in Prince George home one night in 1989 believing they had secured temporary work in a logging camp. Not a trace of them has ever been seen. In 1978, 12-year-old Monica Jack was abducted by a stranger while riding her bike near Merritt. Her remains were found 17 years later, and it would take the RCMP another 23 years to apprehend her killer through a clever, but controversial Mr. Big sting.
There is the story of Brenda Byman, a 12-year-old girl who went missing outside of Invermere in 1961 and whose disappearance continues to divide the town these many decades later. Philip Porter was the 16-year-old son of a wealthy CEO in Kimberley who was kidnapped in 1969 and remains missing. Casey Bohun, 3 was taken from her bed in Delta in the middle of the night. Her mother committed suicide and her aunt continues to search for answers. And then there's the unsolved murder of Gail Rogers, a 26-year-old Vancouver go-go dancer beaten to death in her Kitsilano home and dumped in a creek in Squamish in 1974. Her family continues to grieve 50 years after her murder.
There are hundreds of cases of unsolved murders and missing people in British Columbia, some dating back several decades. I chose to write about cases that weren't well known, in which the victims had been essentially forgotten by everyone except their family and friends. My hope is to change that by telling the stories of their lives, not just their murders.
Lazarus is the author of 10 books of non-fiction, and she is the host and producer of the true crime podcast Cold Case Canada. Her books include the BC bestsellers Cold Case BC; Vancouver Exposed; Murder by Milkshake; Blood, Sweat, and Fear; and Cold Case Vancouver.
Lazarus reads at Thrills and Chills: Mystery and Crime Writers Panel on Oct. 14 at 1:15 p.m. at the Fairmont Chateau Whistler. Tickets are on sale now.