The bodies stack up in Last One Alive by Amber Cowie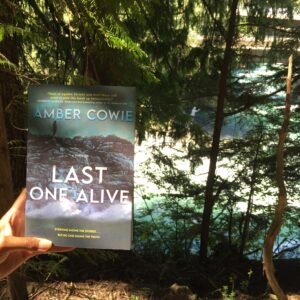 Amber Cowie had me at "witch" and "murder," two keywords that capture my attention just fine on their own but together are an irresistible combination for a thriller. The Squamish writer's newest book is Last One Alive and the bodies really pile up in this one. 
The premise? Penelope Berkowitz is desperate. Her literary agent is breathing down her neck for her next novel after the first one is a huge hit. She's still mourning her best friend Marianne, who died unexpectedly, and she needs inspiration — ASAP — if she's to pull off another book. 
With some help from her boyfriend Philip, she assembles a team of experts and strangers to visit Stone Point, a remote corner of the Pacific Northwest, to unravel the mystery of the murders and the alleged stone witch. In 1922, the rumour goes, a young woman was responsible for the deaths of three adult men, and in more recent years two other adults have gone missing. It's the perfect premise for Penelope's novel. She'll enjoy a beautiful weekend away, have a chance to get to know Estelle, Philip's estranged mother, and get going on her novel. What could go wrong?
Well. It's a thriller, so everything. It doesn't take long for accidents to start happening, or for the first body to drop. Then a storm blows in and knocks out the power.
The hint of the supernatural, the wild and isolated location really set the tone for Cowie's latest thriller. The author has masterfully described and crafted the remote Pacific Northwest location, which feels familiar and frightening all at once. I certainly feel less inclined to wander into the woods by myself on a day when the weather is off-kilter and hinting at a storm. You just never know what — or who — is out there.
In true thriller format, Penelope doesn't know who to trust, as one by one each of the guests she had invited to help her research her book start dying off. The first one seems like an accident, but as the guests start dying one by one, it seems they have a killer in their midst. Is it the Stone Point witch? Or is it someone Penelope invited along for the trip? Cowie makes solid use of misdirection, red herrings, and twists to keep up the frantic pace, right up to the final moments. 
Amber Cowie will be featured in three events at the Whistler Writers Festival. She'll be reading from Last One Alive at the Literary Cabaret: We're Back, Live Baby! at the Maury Young Arts Centre on Friday, October 14. She'll also be moderating the Thrills and Chills: Mystery and Crime Writers Panel on Saturday, October 15, and teaching the workshop Writing Thrilling Fiction: The Perfect Crime Needs the Perfect Plan on Sunday October 16 at the Fairmont Chateau Whistler (and online).