There is healing and a kinder world in stories shared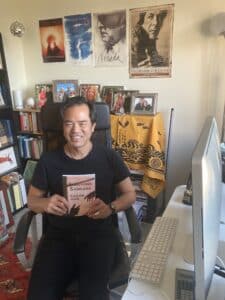 My journey of recovery from mental illness has involved the arts in a significant way. As an initial form of self-therapy, I started to write about my feelings and experiences of living with a mental illness. I became involved in Vancouver's literary community and eventually became an established spoken word poet. I have performed at open mics, readings, festivals, and on radio. My reputation as a mental health advocate and activist led to me being dubbed with respect "the bipolar poet laureate" by my peers.
Oftentimes, when I perform spoken word or storytelling at poetry events, one or two people approach me from the audience after my reading. They confide in me that they too suffer from a mental illness and can identify and relate to my stories.  These people often buy copies of my chapbooks and become my closest and dearest friends. 
I have not only witnessed firsthand but been a participant in the power of art to heal. If indeed one in four people will be diagnosed with a mental illness in their lifetime, I believe my book Surviving Samsara: A Memoir of Breakdowns, Breakthrough, and Mental Illness is highly relevant to many people's lives, not just those with a mental illness but also their friends and family. Mental illness is so widespread that no one's life is untouched by it. My personal mission in my writing and spoken word performances is to educate the public about mental health issues by helping to fight the stigma, prejudice, and discrimination against people with mental illness. There is so much shame and taboo about mental illness that it is about time we break the silence and give voice to those who have been disenfranchised for far too long.
By fate or circumstance, I have become a self-appointed spokesperson. It is a role and responsibility I take very seriously. As the saying goes, "When life hands you a lemon, squeeze it and make lemonade." I am trying to make the best out of a bad situation.  
To quote the famous bipolar musician Lauryn Hill, I want to "develop a negative into a positive picture." In my own small way, through sharing stories of healing, I want to contribute to making this world a better, safer, kinder, and more tolerant, loving, and peaceful place for all of us to live in together.
— Text and photo from Kagan Goh
The theme of this year's festival is Sharing Stories Together. Kagan Goh appears on the Writers of Non Fiction Panel and teaches Mastering the Art and Craft of Creative Writing Through Narrative Poetry on Oct. 15. Get tickets online.