Whistler Writers Festival delves into comedy, music, culture and more with special new events
SEPTEMBER 22, 2023: Whistler, BC — The Whistler Writers Festival is so much more than a book festival. It's embracing comedy, culture, and hard-hitting issues and building on the interpretation of what a book festival can be. 
"We've always had music at the festival with our Literary Cabaret, but the literary arts have so much crossover into other aspects of entertainment, news, and culture that we're bringing it all together this year to create an immersive and fun experience that offers something to everyone — even the non-book lovers in your life," said Rebecca Wood Barrett, festival artistic director.
Some of these events include:
Word of Mouth: Telling Our Stories in the Oral Tradition
Stories aren't just about the ones we write down. This event is a celebration of the art and tradition of oral storytelling and features Yvonne Wallace (Lil'wat Nation) and Tsawaysia Spukwus (Squamish Nation), keepers of stories and songs indigenous to the shared Lil'wat and Squamish territory. Other local storytellers have been invited to share their tall tales and share the stage with these experienced storytellers. This event, Oct. 12 from 7-9 p.m. at the Squamish Lil'wat Cultural Centre, showcases the entertaining, personal, and culturally diverse tradition of oral storytelling.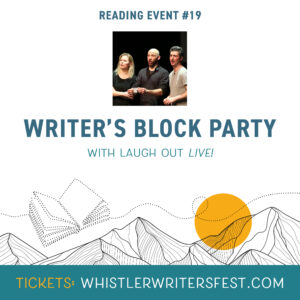 The Booklover's Salon
Wildfires have dominated the news headlines for months, and thousands of British Columbians have been impacted. Climate change and its impact have been at the forefront of public discussion. Vancouver-based author John Vaillant sits down with moderator and scientist Leslie Anthony to talk Fire Weather: The Making of a Beast, which tells the story of the 2016 Fort McMurray fire in peerless detail. By also exploring the interconnected histories of humankind's relationship to fire, the oil industry, the automobile, and climate science, Vaillant shares a message that couldn't be more topical and urgent. This event is Oct. 13 at 5:30 p.m. at the Fairmont Chateau Whistler. 
The Literary Cabaret
This popular event combines live music performed alongside live readings from a plethora of authors writing poetry, memoir, fiction, and non-fiction. The West Coast Front band jams alongside guest authors Cody Caetano, Patrick deWitt, Justene Dion-Glowa, Michael Janyk, Jen Sookfong Lee, Jennifer Manuel, Nick Marino, Rabbi Paul Plotkin, and Bronwyn Preece as they read from their newest books. This event is a hit with bookworms and live music fans alike. Catch it Oct. 13 at the Maury Young Arts Centre at 8 p.m. 
Discover What a Mushroom Lives for with Michael J. Hathaway
Mushrooms are experiencing a moment after the popularity of Netflix's Fantastic Fungi, and mushroom foraging is becoming ever more popular. Just what does a mushroom live for? Michael J. Hathaway, a member of the Matsutake Worlds Research Group, talks about how this prized matsutake mushroom is powerfully shaping worlds and how fungi shapes our planet and lives in strange, diverse and unimaginable ways in this special, one-of-a-kind event. This event is based on Hathaway's book, What a Mushroom Lives For: Matsutake and the Worlds They Make. Join in Oct. 14 at 9 a.m. at the Fairmont Chateau Whistler.
Saturday Night Special: A Killer Night of Comedy, Murder and Mayhem featuring Brent Butt
Comedy is making a huge stand in this year's festival with a murderously wicked Saturday night of standup comedy, a Huge reading performance, and thriller-themed improv from Whistler's own Laugh Out LIVE! comedy troupe. From the popular entertainer Brent Butt, comes an unexpectedly dark and twisted thriller, Huge. An award-winning screenwriter and International Emmy nominee, Butt delivers a debut novel that tells the tale of a trio's standup comedy tour turned terrifying. Tickets include a copy of Huge, killer appetizers, and a delicious liquid libation. Don't miss out on Oct. 14 at 8 p.m. at the Fairmont Chateau Whistler.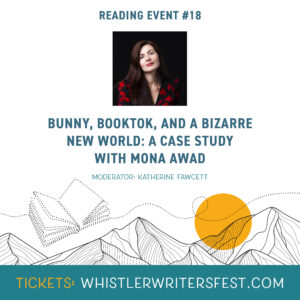 Bunny, BookTok, and a Bizarre New World: A Case Study with Mona Awad
Since ChatGPT launched, there has been plenty of speculation, fear and even some hope about the future of AI. One person who took tangible action while everyone speculated? Author Mona Awad. Awad is one of the first authors to bring a copyright lawsuit against the makers of ChatGPT for using her books to train the AI chatbot without consent, credit, or compensation. She shares about the impact the digital world has had on her career in this event about the influence of film and TV, BookTok, AI, Hollywood and more. This event is perfect for people who enjoy big ideas, and big discussion about the impact our culture has on art, and vice versa. It's Oct. 15 at 2 p.m. at the Fairmont Chateau Whistler.
Writer's Block Party with Laugh Out LIVE!
There's plenty of things to laugh about at the festival, although writer's block isn't one of them. But this event, onstage for two nights, is the place to get over writer's block. If comedy is tragedy plus timing, there's nothing more tragic for creatives than a mental logjam. Laughter can help. Hilarious improv troupe Laugh Out LIVE! featuring Dave Francis, Rebecca Mason, and Ira Pettle offers up humorous shots at literary clichés, obsessive writers, book club shenanigans, and fanatical booklovers. This event is at 8 p.m. Oct. 15 & 16 at the Fairmont Chateau Whistler. 
There are 19 reading events and 10 workshops in 2023.  Tickets for this edition of the Whistler Writers Festival are on sale now and have early bird pricing until Oct. 1. The Whistler Writers Festival is Oct. 12-16, 2023. Visit whistlerwritersfest.com/ for the latest news and announcements, and for a list of authors and events.