Whistler Writers Festival tickets on sale now — early bird pricing
Whistler Writers Festival tickets on sale at noon today with special early bird pricing.
AUGUST 21, 2023: Whistler, BC — Tickets for the 22nd edition of the Whistler Writers Festival are on sale now and have early bird pricing until Oct. 1.
For the first time, the festival is offering early bird pricing on all events. At checkout, ticket buyers get 15 percent off until Sept. 15, and 10 percent off until Oct. 1.
"This year, our theme is connecting through story, and all our events and workshops are created with that idea in mind," said Rebecca Wood Barrett, festival artistic director. "We've added new events, reformatted some beloved ones to make them even more engaging, and added some special extras like a comedy show and more poetry. We don't want anyone to miss out on their favourites and we want everyone to come away from the festival feeling that they've connected with themselves, their community, and the stories they've heard."
There are 19 reading events and 10 workshops in 2023. Some major highlights include:
The Booklover's Salon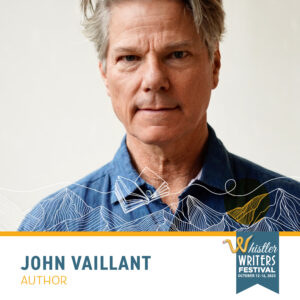 This year, celebrated Vancouver-based author John Vaillant sits down with popular moderator and scientist Leslie Anthony to talk Fire Weather: The Making of a Beast, which tells the story of the 2016 Fort McMurray fire in peerless detail. By also exploring the interconnected histories of humankind's relationship to fire, the oil industry, the automobile, and climate science, Vaillant has crafted not only another brilliant read, but a message that couldn't be more timely. This event is Oct. 13 at 5:30 p.m. at the Fairmont Chateau Whistler.
The Literary Cabaret
Sashay to the Literary Cabaret and enjoy a night of literary musings and live music. The West Coast Front band jams alongside guest authors Cody Caetano (Half Bads in White Regalia), Patrick deWitt (The Librarianist), Justene Dion-Glowa (Trailer Park Shakes), Michael Janyk (Go to the Start), Jen Sookfong Lee (Superfan), Jennifer Manuel (The Morning Bell Brings the Broken Hearted), Nick Marino (East Side Story: Growing up at the PNE), Rabbi Paul Plotkin (Wisdom Grows in My Garden), and Bronwyn Preece (knee deep in high water : riding the Muskwa-Kechika) as they read from their newest books. Catch it Oct. 13 at the Maury Young Arts Centre at 8 p.m.
Astonishing Voyage: A Conversation with Esi Edugyan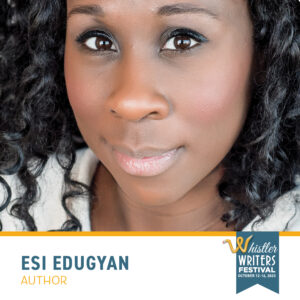 Join Jasmine Sealy in a captivating conversation with multi-award winning, Canadian literary phenom Esi Edugyan, author of Washington Black, Out of the Sun: Art, Race and the Future, We Are Bone and Earth, Dreaming of Elsewhere, and Half-Blood Blues, which won the Scotiabank Giller Prize and was a finalist for the Man Booker Prize, the Governor General's Literary Award, the Rogers Writers' Trust Fiction Prize and the Orange Prize. They'll dive into things Oct. 14 at 6 p.m. at the Fairmont Chateau Whistler.
Saturday Night Special: A Killer Night of Comedy, Murder and Mayhem featuring Brent Butt
From the popular entertainer Brent Butt, comes an unexpectedly dark and twisted thriller, Huge. An award-winning screenwriter and International Emmy nominee, Butt delivers a debut novel that tells the tale of a trio's standup comedy tour turned terrifying. It's a murderously wicked Saturday night of standup comedy, a Huge reading performance, and thriller-themed improv from Whistler's own Laugh Out LIVE! comedy troupe. Tickets include a copy of Huge, killer appetizers, and a delicious liquid libation. Don't miss out on Oct. 14 at 8 p.m. at the Fairmont Chateau Whistler.
Sunday BookTalk and Breakfast
Breakfast is back. Enjoy the Fairmont's delicious Whiskey Jack Continental buffet breakfast in the good company of other booklovers before the enthralling BookTalk begins. Moderator and author William Ping will engage four award-winning authors — Mona Awad (Rouge), Kevin Chong (The Double Life of Benson Yu), Alicia Elliott (And Then She Fell), and Rowan Jetté Knox (One Sunny Afternoon) — in conversation about their new releases.
"We love bringing back events that people are drawn to, like our crime writers talk and our poetry discussion, and this year we've added some twists on our workshops, and even included an extra day so that we could offer a writing-themed comedy show from Laugh Out LIVE! to even more folks," Wood Barrett said. "This year's festival is going to be fun, lively, and an exciting literary experience with some of the best authors writing today. I can't wait to connect with our authors, guests and to hear some amazing stories."
The Whistler Writers Festival is Oct. 12-16, 2023. Visit whistlerwritersfest.com/ for the latest news and announcements, and for a list of authors and events.