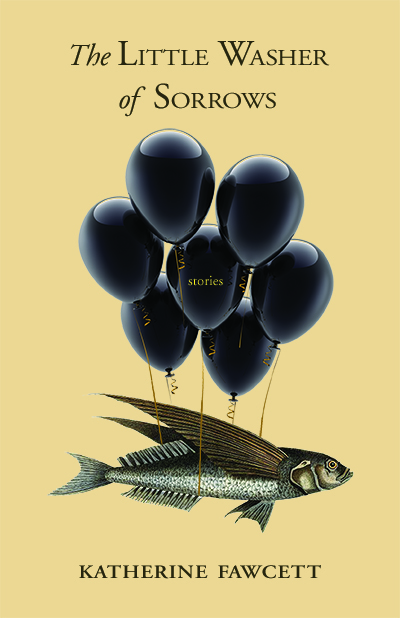 Katherine Fawcett's short story collection, Little Washer of Sorrows
Review by Karen McLeod
How does Katherine Fawcett come up with these fantastic, original stories? I picture the author and her friends on a dock, it's a summer evening, they've had a few, and then the "What if?" conversation starts.
The first story in the collection, "Captcha" made me laugh the most, more of a shake my head, Oh my! kind of laugh. Fawcett's style is exactly what I like to read.
One of my favorite stories, "Jesus on the Candy Bar" (what a title!) has the distinct and authentic voice of a teenage girl. Fawcett remembers the awkwardness of adolescence like it was just last summer. In "Dire Consequences," there's a shocking result of momspeak "Eat your greens."
Voice and dialogue are the author's strong suits.
Off the charts for originality, the book's namesake "The Little Washer of Sorrows" was oh so clever. Best last line ever! I chuckle every time I think about it.
Another thing, I get these stories. As bizarre as they are, they end. I finish reading a lot of a lot of short stories with a furrowed brow and desire to contact the author for an explanation. I admit to being still curious about a couple of these stories, but some curiosity is a good thing, frustration is not.
I smell a Giller. And a grilled cheese with hot chocolate. That was lunch in "Dire Consequences." Grilled cheese and hot chocolate? Those don't even go together, but, wait, I used to have that when I was a kid. The image, like so many in the collection, is both fresh and nostalgic.
I broke my rule of reading only one short story per night. More than once.
Karen
Karen McLeod writes comedy. Her skit, "Book Club" is a finalist in Comedy Quickies, the kickoff event to the 14th annual Whistler Writers Festival on October 15th.
As published in Pique Newsmagazine